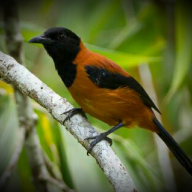 The Bird with Batrachotoxin!
Core 'Shroom Staff
Awards Committee
Poll Committee
It's time for a new poll! Throw yourself back to the old days, because we're going down to an arcade for this one.
Recently, the Mario franchise has had varied but inconsistent arcade releases. What direction would you like to see taken with future arcade Mario titles?
I would prefer Nintendo-developed arcade titles featuring gameplay closer to console releases.
I would like to see more third-party developed arcade titles that feature gameplay experiences unique to the arcade format (e.g. Mario Kart Arcade GP).
I would like to see more physically-based arcade titles such as slot machines and claw machines (e.g. the Mario Party arcades).
I would like for Nintendo to reproduce their classic retro arcade titles with new machines (e.g. Donkey Kong and Mario Bros.).
I would like to see more arcade titles and would be open to any of the above varieties.
I do not want more arcade titles and would prefer Nintendo focus on their console and/or mobile offerings.
I have no opinion on this subject.
For myself... I'm going to be selfish and go with option six because I'm nowhere near an arcade and I wouldn't get to play any arcade games anyways.