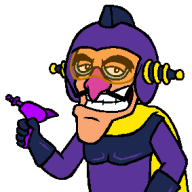 Off-Duty Private Investigator
Wiki Administrator
Core 'Shroom Staff
Awards Committee
Poll Committee
The 'Shroom is here go read it! But that also means that it's time for input for Issue 181 to be
open
from now until April 2nd! Since next month's issue will be celebrating Yoshi876's 100th issue as Spotlight Manager with a fitness/sports theme, we're going Mario sports this month. Any and every character who has ever appeared in a Mario sports game is eligible! I'm also allowing any other appropriately buff characters you can think of.
If you'd prefer not to nominate a fighter, you can vote for one of these by leaving a reaction on this post. Making full posts in support of one of these candidates is also welcome!
Big Massif - Starting things out with a non-sports character, wow, way to go WT. But seriously, although he hasn't been invited to any sporting events, he's got BEEEEF! With a variety of attacks, any opponent with insufficient beef will cower before him! If you'd like to see Big Massif in the next match, react with Wow ().
Waluigi - Love him or hate him, if there's any character who represents Mario sports, it's Waluigi himself. Born in the fires of tennis, Waluigi has become a staple of the Mario spinoffs, and sports is no exception. He even brings his tennis racket with him to Smash! Not to mention that he's a personal favorite of Yoshi876. Who better to join Smackdown this time around? If you'd like to see Waluigi in the next match, react with Thinking ().
Yoshi - Can't leave out Yoshi, right? Although his attendance isn't perfect, he's right up there with giants like Mario, Luigi, and Peach as one of the most common faces in the Mario spinoffs, and sports are no exception of course! If you'd like to see Yoshi in the next match, react with Angry ().