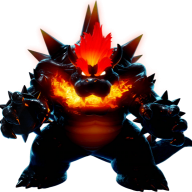 The idiot who puts things in the wrong board.
Considering that Little Mac was played by a former boxer who was the son of Italian immigrants in a live-action commercial for Punch Out on the Wii and said actor said he was asked to play a 'young Italian-American guy, good looking with a cocky attitude and a heavy New York accent', I'm pretty confident in saying that Little Mac is meant to be Italian-American and, you know, Italians are pretty widely considered to be white and not POC.

Of course IIRC Nintendo themselves have said that Little Mac's ethnicity is meant to be ambiguous so ¯\_(ツ)_/¯ but I read him as being of Italian ancestry personally.
Well you did say Dark Skinned, you didn't specify ethnicity :V