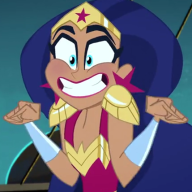 Jump City shall fall before my mite!
peteys gender physically is either none or.. both, but mentally. he doesnt care. hes got like 2 brain cells he doesnt know the concept of gender! he wont care whether you call him a he or a she or wahtever
Gender isn't physical. Physical sex (chromosomes, genitalia, gonads, hormone levels, secondary sex characteristics) are, but a person's gender isn't determined by their biology.