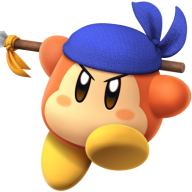 YoshiFlutterJump
Awards Committee
Mario & Luigi: Bowser's Inside Story

Just beat the third giant boss, so I'm pretty far along now. I heard this boss was painful in the DS version of the game due to the required use of the microphone to blow fire, but it's all touch-based in the 3DS version so I didn't really have anything to worry about. And I feel I've definitely played enough to say that this game is every bit as good as Dream Team, if not even better...then again, I'd probably have to go replay the latter to be sure.

Additionally, in Bowser Jr.'s Journey, I've played through the final quest in Blubble Lake, where Junior and co watch Bowser battle the second giant boss. There don't seem to be many quests left here either, though. It ain't over yet though...can't wait to see how this all ends.


---

Mario Party 8

Also played this with my siblings lately...specifically, we completed a 50-turn game on Koopa's Tycoon Town in one sitting. It was our first-ever 50-turn Mario Party despite owning the game for ten years...and we learned something: don't ever do it. Ever. (Oh yeah, did you know that if you invest 100 coins into a single hotel, you fully own the place and no one can take it from you? I found that really interesting). Oh yeah, and since you're probably wondering, I finished second with 10 stars and 26 coins, just 9 coins behind Luigi.

Oh yeah it's probably also worth mentioning that I ordered Mario Party DS and it's on its way, so we'll have another traditional-style Mario Party to try out. Looking forward to it!