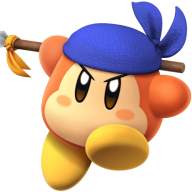 King of Dream Land
Poll Committee
Most wanted is Bandana Dee. The dream is essentially dead at this point if it wasn't already, but he'll never stop being my most wanted. Introducing Bandana Dee into Smash would not only make a 4-player Kirby match possible, but it could also open a door for modern Kirby games to receive more acknowledgment from Smash. Bandana Dee also represents Waddle Dees in general, who are nearly as iconic to the series as Kirby himself, and Waddle Dees really need to be given more love in Smash.

After that...probably Toad, except the dream's basically dead for him too because Plant exists. Toad's exclusion from Smash is even more confusing than Bandana Dee's, considering that he is one of the most major characters in Nintendo's most major franchise. If anyone could truly deserve a spot in Smash, it's Toad.

Those are the two I really feel should be in Smash already, and there aren't many others that I'd request. Too bad the Fighters Pass seems to be entirely third-parties and they wasted the one first-party DLC slot on a lame Piranha Plant.