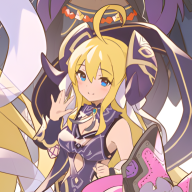 Kat is adorable. End of story.
Considering the post in the game, this is N64 Frappe Snowland. And it looks very different from the N64 and DS version.

I find it nice that Tour is finally releasing 3D retro tracks that were remade from scratch, I hope this trend continues.
Since N64 Frappe Snowland appeared as a retro track in DS, we would see more of the DS's retro tracks like N64 Choco Mountain, N64 Moo Moo Farm, GBA Sky Garden, and N64 Banshee Boardwalk.