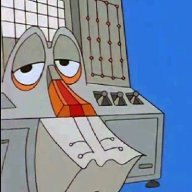 Master of Dimensions, Pleaser of Crowds
I mean you're right that if everything else was satisfactory I wouldn't really care about the character designs. It's just that when so much is taken away, there wasn't much to distract me from the little things like that lol

and honestly in regard to 64 to TTYD, i think that change was an improvement. I do like the pixel art but the vector style became iconic for the series and the details they fleshed out to work with the new design overall perfected the style imo, so changing it again wasn't really necessary.