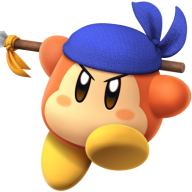 YoshiFlutterJump
Awards Committee
Say your favorite character, and then your least favorite.

Here's mine:

Favorite: Yoshi (Super Mario World) - Always faithful to Mario, and is actually the sole reason Mario is alive to this day. Plus, he's green, and green is my favorite color.

Least Favorite: Jojora (Mario & Luigi: Superstar Saga) - This bratty fairy girl just taunts you as you climb Joke's End. And once you get to the top, she pretends she's inviting you to tea. She tells you to pick one of her "friends" (they're all just alter-egos of the same person) to invite, and then she dukes it out with you! She is just plain annoying and attacks you out of the blue, without explanation. She is, by far, the worst character Nintendo ever invented.