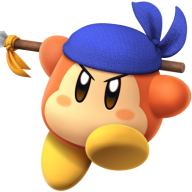 YoshiFlutterJump
Awards Committee
Poll Committee
Paper Mario: The Thousand-Year Door

Finished Chapter 2. Definitely more interesting than chapter 1, and those Puni vs Jabbi wars were amusing to watch. Also got the Super Boots, and upgraded Goombella to Super Rank (she can Multibonk now, since Charge P replaces Goombario's Charge ability), so once I get Charge P, I'll have the next OP Goomba partner. Fear the goombas, villains!

Also, I know Bowser's portrayal in this game is infamous for the intermission after chapter 2, where Bowser talks to a poster thinking it's Princess Peach. It's worth mentioning that it actually looked pretty realistic save for the fact that she wasn't moving, and combine that with the fact that this is Paper Mario, where everything is two-dimensional, and I probably would have been fooled too. Also Kammy was fooled too, so it wouldn't be just Bowser being a doofus.