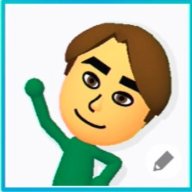 I'm not here right now... I'll be back in a bit.
The Mario Party series has what must be approaching a thousand minigames. (I didn't count, that's just my guess.) Just out of curiosity... what are your favorite and least favorite minigames?
Myself, I just love Shake It Up from Mario Party 8. (I think that's what it's called) I also liked the one in Mario Party 3 where you attempt to catch a chicken. I played that with my grandmother and she loved it. She also found the 3 V 1 game where the solo player throws boulders down hill at the others absolutely hillarious.