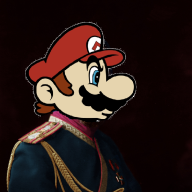 If you find any good Marie fanart, send it here!
Re: Alex95's Thread of Stuff (Power Master/The 'Shroom/YouTube)

So you put both my Luigi form and my goose form in your Art Contest entry! That's a nice way of solving it. Btw, is the Luigi based on any particular game or is it just an alternate style you came up with? He looks a bit different from the standard Luigi artwork (but still good, of course).