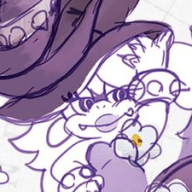 Perhaps AYE could be of assistance?!

No Need for these Burts to be bashful! :P
I also have some P-Switches I forgot to show in the last dump update, I suppose I might show them at a later point. Working on Scaredy Rat as well right now.
These actually are, in fact, edits of the original Burt sprites, but it's somewhat hard to tell. This took me about two days of on-and-off working. It's a better animation than the Buster Beetle one, since I put all the frames in one Paint.net doc to figure out where they should go before I separated them.
On an unrelated note, check out the JGS Music remakes for several
Donkey Kong Country
series songs, BrawlBRSTMs3 uploaded several extended versions of them, and they are amazing. Their version of Northern Hemispheres in particular is just haunting.








Beware the Burt Brigade!