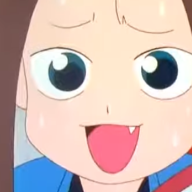 Shine Sprite
Retired Forum Mod
Retired Wiki Staff
Former 'Shroom Staff
They really do, and they haven't gotten much better since the above picture was made. In this post, I'm focusing on game pages because that's what my mind is on, but recurring characters page are also lackluster and I'll get to them eventually. It's not a standardised kind of suck however. Some are big unappealing boxes crammed with a succession of factoid without care to make them flow well or consideration that the information presented even makes sense to be in the lead...
Donkey Kong Barrel Blast (known as Donkey Kong Jet Race in Europe and Australia) is a racing game in the Donkey Kong franchise. It was released for the Wii in mid-late 2007 in Japan and North America and early 2008 in Europe and Australia. The game was developed by Paon, who previously developed DK: King of Swing and its sequel DK: Jungle Climber. Some game modes present in the game are Jungle Grand Prix, Time Trial, Candy's Challenges and Cranky's Flight School. The game incorporates Miis as indicators for records in Time Trial and Candy's Challenges mode.
Why is Mii support such an important feature that it needs to be mentioned in the first paragraph? And namedropping the mode as is doesn't work for the lead because the reader doesn't have the context of what the modes are. A more generic but informative statement like "The game features a variety of modes like time trial, challenges, and tutorials..." would work much better.
Donkey Kong Country: Tropical Freeze is a side-scrolling 2.5D platform game developed by Retro Studios and Monster Games for the Wii U. It is the fifth game in the Donkey Kong Country series and a successor to Donkey Kong Country Returns. It follows the adventure of Donkey, Diddy, Dixie, and Cranky Kong as they are flung from their homeland and attempt to come back and retrieve it from the Snowmads, an organization of Viking-like seafarers. They appear as antropomorphic, (sub)polar animals ranging from penguins and walruses to owls and hares.

The game was originally slated for release during November 2013 before being pushed back to December 6; it was later pushed back again to February 2014.[7] It can be purchased at retail stores, or digitally from the Nintendo eShop, with the digital version requiring 11300 MB (approx. 11.3 GB) of memory to be installed. Standard set Wii U consoles do not have enough internal memory to have this game downloaded on them without an external storage device, but deluxe set Wii U consoles do.
This one is
fine
. Mostly. It could stand to be exapnded and the existing writing tightened , but it flows well enough. But that last paragraph stand to be excised. Why is more than half of the lead about the game's file size and the Wii U's data storage options?
Others
are just spartan.
Super Mario 3D World is a 3D platformer action game for the Wii U. It is a follow-up game of the Nintendo 3DS installment Super Mario 3D Land, the fifteenth title in the Super Mario series, the sixth original 3D Mario title, the seventh 3D Mario title overall, and the fifth 3D Mario title on a home console after Super Mario Galaxy 2.
This is all you can write about Super Mario 3D World!? Seriously? (This is a featured article btw)
And then some are on a whole 'nother level of suckitude.
Super Mario Bros. 2 (known as Super Mario USA in Japan) is, outside Japan, the second game in the Super Mario series. It originally was for the Nintendo Entertainment System, but was subsequently ported to many other systems. The game was originally released in North America on October 9, 1988, in Europe on April 28, 1989, and in Oceania on May 1989. As a result of Japan already having a Super Mario Bros. 2 (known outside of Japan as Super Mario Bros: The Lost Levels), the game did not make its debut in the country until after the release of Super Mario World, on July 14, 1992 (making it Japan's fifth installment of the series), under the title Super Mario USA. Super Mario Bros. 2 was re-released the first time on the Wii's Virtual Console in Europe and Oceania on May 25, 2007, North America on July 2, 2007, and in Japan on August 10, 2007. The game was later re-released on the Nintendo 3DS's Virtual Console in Japan on November 28, 2012, North America on July 11, 2013, Europe on August 7, 2013, and in Oceania on August 8, 2013, and even later was re-released a third time on the Wii U's Virtual Console in North America, Europe, and Oceania on May 16, 2013, and in Japan on March 19, 2014. Everyone can play as Mario, Luigi, Toad or Princess Toadstool.

Super Mario Bros. 2 came about after Nintendo of America deemed Super Mario Bros.: The Lost Levels too difficult for Western audiences and too similar to the first game, which led Nintendo to redevelop the Famicom Disk System game Yume Kōjō: Doki Doki Panic into a Super Mario Bros. game for the international release. After its release, the game became a commercial success, and eventually the game became well received enough that it was also released in Japan. After performing well both critically and commercially, Super Mario Bros. 2 has been considered a classic Super Mario Bros. game around the world (including in Japan), and has since been re-released as one of the Mario games featured in Super Mario All-Stars, and as well as having its own enhanced port in Super Mario Advance.
On a skim reading, this intro seems fine. It mentions the release data of the game, its status as a spriteswap of Doki Doki Panic, the player characters, and so on. But it's seriously mediocre. Obviously including the release date of atleast the original version is mandatory, but you don't need to list the exact release date of every version of the game in every regions. That's what the infobox is for! The intro doesn't even allude to the game's considerably different gameplay mechanics. The statement that "Nintendo of America deemed Super Mario Bros.: The Lost Levels too difficult for Western audiences and too similar to the first game," is unsourced. "Super Mario Bros. 2 has been considered a classic Super Mario Bros. game around the world (including in Japan)," is a clunky statement (rather than waffling about SMB2 being a
classic Mario game
, it could take about its concrete impact on the series like the recurring characters and concept it introduced) and the "including Japan" parenthetical part is both unsubstantiated and unnecessary. Et cetera.
This is for
a featured article.
As of this writing, SMB2 is the featured article on rotation so this is new reader's first taste of the wiki when they reach the main page. We could do so much better.
I don't fancy myself as a master writer, and I don't want my post here to be taken as an immuable guideline of every intro should rigidly adhere to. But generally, I think there's a formula that works well for introducing a subject like a work of media.
-A [Thing is a [thing] released for the [thing] released in [year], along with mentions of the developer and any notable creative talent involved in the project.
-Where the game stands in its series.
-An one sentence summary of the premise and plot.
-Listing remakes, rereleases and derived media.
-Any notable gameplay additions or input gimmick (WarioWare's twisted tilt sensor, Donkey Konga's bongos)
-A brief mention of the media,s reception and legacy if it's notable for either extremes (Not introducing Donkey Kong Country without mentioning the game's sale success and it single-handely driving the adoption of pre-rendered graphics would be a faux pas, for example).
Good introductions
are vital
. To quote TV Trope's page on the stock phrase "I suck at summaries"
To say that a summary is important to a work of fiction is an understatement. The summary is almost certainly the first thing your prospective reader will see; it is where they go to know what the story's about and to get some idea whether they will want to read it or not. You are essentially making a pitch for their time (and money, if you're writing professionally), so your summary is a vital way of letting them know that spending it on your work won't be a waste. So making the first thing that your reader sees a statement declaring that you are essentially no good at an essential part of writing is a bit like introducing yourself to a prospective partner at a blind-date by saying that you're terrible at introducing yourself and then proceeding to list all your worst features — ill-advised.

Most online works described in this fashion, needless to say, aren't very good. Furthermore, such stories usually die long before they are completed, due to the author giving up from lack of feedback... Neither is surprising: if the author lacks the skill and dedication to write a proper summary, why should the story itself fare any better?
A wiki ostensibly synthetizes a large amount of information in a way that's ideally accurate, interesting, and concise. A lead is a microcosm of that. If it can't do that from the get-go, it's a problem.
But enough bellyaching for me.What do you think Super Mario Wiki community?