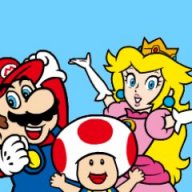 Dedicated Mario fan; loves the Mario girls double!
Retired Wiki Staff
Okay, as we should already be aware at the main site, the wait is now over for other regions. Starting with the Australia area, they now are getting their hands on the Mario Sports Mix game at last. Other regions are waiting now after this to get their hands on it (I'm in the U.S., and I'm starting to get really impatient for release week to hit).

So, anyone here targeting this game when their respective release day hits? And who are you planning on representing in the game?

My answer to the two questions: (1) Heck yes! (2) Peach, Daisy, Toad -- although I'm hoping to work hard and get White Mage on my roster.

All right; let's discuss.