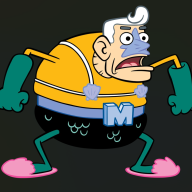 20 Year Old WVBA Boxer From Brooklyn, New York
This thread is for discussing any TV shows and cartoons that are a guilty pleasure to you. Since this is my thread, I suppose I'll start.

One of my guilty pleasures is cheesy cartoons from the 80s and 90s. I don't know why, but I just love the cheesy writing and animation that would be considered outdated by today's standards. It just has a special place in my heart.