I'm gonna post some stuff about Brawl Stars here, but if you want, you can talk about the game here too.
Character Name

A picture of the character

An paragraph about the character's mechanics.

A paragraph about the character's relationships to other Brawlers.

A paragraph about who/what the character used to be, and maybe some backstory too.

The occasional video.
Shelly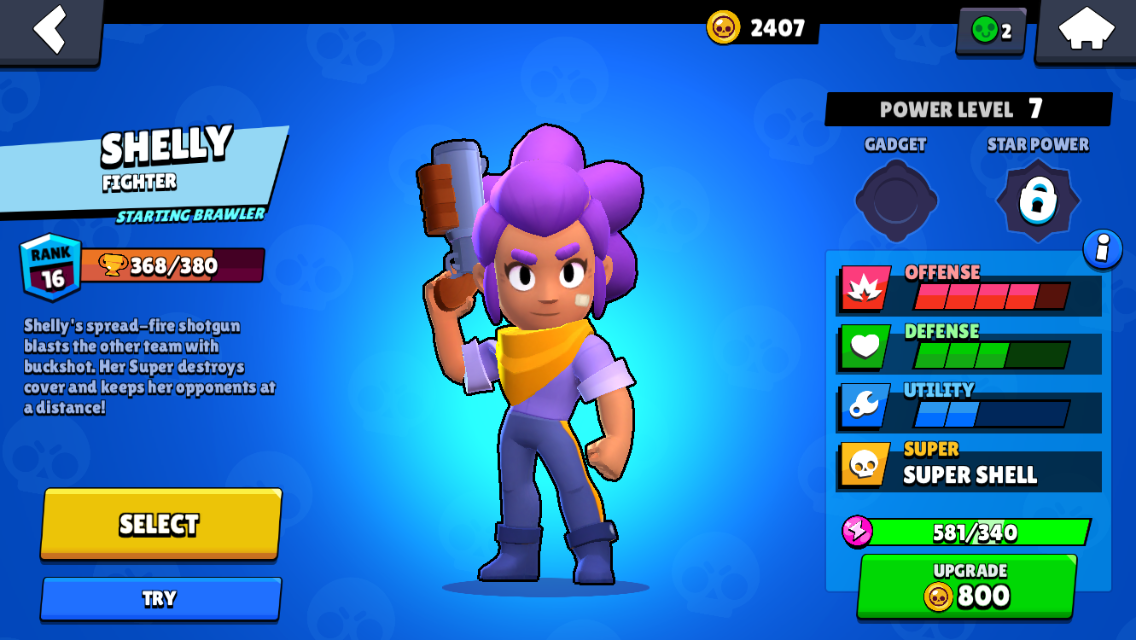 Shelly is the starting character of the game and definitely one of the most basic characters to play as. She has a long range that deals less damage the farther you are from it, and her Star Powers allow her to either slow down opponents hit with her Super or heal when below a certain amount of health. There's not much to say here, aside from the fact that she is one of the notorious bush campers in the Solo mode. (You can chain attack her Super, then her attack, which, should both make contact at closest range, will instantly give her ANOTHER Super, allowing this cycle to repeat.)
She is a member of the Wild West trio with Colt and Spike. The three are sheriffs/deputies in a western setting, which is (usually) the most common environment for maps. Other than this pairing, she has no confirmed relation with other Brawlers. I have, however, heard a theory that Rosa is her mother and El Primo is her father. This might make sense as she has that Mexican heritage and El Primo is a Mexican luchador wrestler. The reason she wouldn't have a similar accent to Rosa could be that Rosa may have left to pursue her career in botany and left Shelly with Primo. Shelly and Rosa both have hair that's a similar purple color, but again, none of this is confirmed.
Shelly used to be one of those people at theme parks that you could meet and take pictures with. (Those people who are paid by say Disney Land to walk around a certain section of the park in a costume and take pictures and sign autographs under the character's name.) She and Colt can be seen at the beginning of the Starr Park trailer.
Last edited: