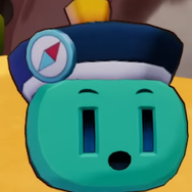 I'm Yoshi the Space Station Manager from the wiki.
Now onto the last M&L game by AlphaDream if it's not the last M&L game.

Goomba
Biddybud (1)
Spiny
Sandmaargh
Fly Guy (1)
Hammer Bro (1)
Cheep Cheep (1)
Urchin (1)
Koopa Troopa
Monty Mole (1)
Ninji
Fire Piranha Plant
Bully
Buzzy Beetle
Spike
Pokey
Cheep Cheep (2)
Urchin (2)
Fire Bro
Horned Ant Trooper
Boomerang Bro
Big Tail Goomba
Fly Guy (2)
Hammer Bro (2)
Monty Mole (2)
Shy Guy (1)
Biddybud (2)
Broozer
Mechakoopa (1)
Shy Guy (2)
Chain Chomp
Nabbit
Mechakoopa (2)
Fly Guy (3)
Paper Goomba
Paper Paratroopa
Paper Spiny
Paper Bob-omb (1)
Paper Hammer Bro (1)
Paper Scaredy Rat
Paper Koopa Troopa
Paper Bob-omb (2)
Paper Ninji
Paper Spear Guy
Paper Sombrero Guy (1)
Paper Spike
Paper Fire Piranha Plant
Paper Fire Bro
Paper Swoop
Paper Boomerang Bro
Paper Dry Bones
Paper Paragoomba (1)
Paper Hammer Bro (2)
Paper Boo (1)
Paper Fuzzy (1)
Paper Shy Guy
Paper Broozer
Paper Sombrero Guy (2)
Paper Chain Chomp*
Paper Boo (2)*
Paper Paragoomba (2)*
Paper Fuzzy (2)
Papercraft Goomba
Papercraft Pokey
Papercraft Spike
Papercraft Mechakoopa
Papercraft Spiked Ball
Papercraft Koopa Shell
Papercraft Bob-omb
Papercraft Dry Bones
Papercraft Boo
Papercraft Bullet Bill
Papercraft Whomp
Papercraft Airship

Notes:
All paper enemies have a shiny version which is counted as the same enemy. Only the ones with a * don't have a shiny version.