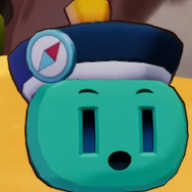 I'm Yoshi the Space Station Manager from the wiki.
Please don't confuse this with
This KO a character game
. First, this is a Vote to Win. Second, this is only the playable characters and not any non-playable characters like Lucien. It also includes some other characters not in the list like Dry Bowser.
A few days ago, the final playable character of Mario Tennis Aces became available without a tournament participation. And now we have 30 playable characters. Which is just two short of the only division by 2... 32. So to make up for this, two losers will be randomly chosen to compete against two predetermined at this time characters in their own vote polls. This game consists of 10 rounds of vote polls. Voters can vote for all or some of the vote polls in the round and can only vote once per individual vote poll. Votes are adding 1 number to a character. And it follows the other standard rules. Also, in the event that a tie, the winner will be determined by a coin flip. This first round will last for three days to see who is all is interested in it. But, expect the other rounds to be only last a day. The vote polls have been already randomized in character pairs. So with that said, here are the contestants for Round 1.
Vote Poll #1
Wario - 0
Toadette - 0
Vote Poll #2
Luma - 0
Diddy Kong - 0
Vote Poll #3
Boo - 0
Bowser Jr. - 0
Vote Poll #4
Spike - 0
Koopa Troopa - 0