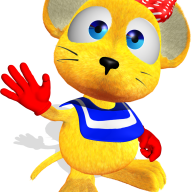 I'm the prettiest girl you ever met
No, not the sounds Kirby makes, the games! (Which ironically is the first place Kirby talked ... and then revealed his really rude side)
Puyo Puyo is a match 3 puzzle game, inspired by the likes of Tetris and Dr. Mario, so what makes it stand out from other puzzle games? Personalty and characters! The Puyos themselves are cute little blobs with eyes, you almost feel bad for matching them, everything in this game is super cute!
And it's got witty humor to go with it, here's one of my favorite exchanges:
Probably due to "Girls have cooties" syndrome, the games hardly make it over as they are in Japan, either transformed into Dr. Robotink's Mean Bean Machine, Kirby's Avalanche or for some reason, unrecognizable, unlikable, grouchy food, but that's starting to change, Puyo is showing up a lot more in the west, and it's can possibly get bigger with the release of Puyo Puyo Tetris!