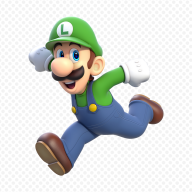 Your local Luigi, Daisy, Yoshi, and Diddy Kong fan
Banned User
With the exception of Animal Crossing, all 1st and 2nd Party Franchises worthy of Smash Bros representation in the form of playable characters were represented by playable characters already.
Cuts are not always a bad thing and it depends on the character in question.
The Mario and Pokemon franchises have easily earned 7 Characters by this installment.
The Donkey Kong and Kirby franchises have earned 4 characters by this installment.
The Zelda franchise has earned 5 Characters by this installment.
Daisy had earned enough merit by Brawl to have should have been included there as playable.
Waluigi has earned enough merit by this installment to should have been included here as playable and should always have been lumped into the Wario franchise.
Fire Emblem only deserves 1 rep.