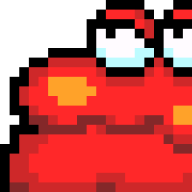 call me Hot Lips, 'cause i'm a one-shot wonder
Is there some sort of hard line regarding which staff members behind a game or other piece of media, credited or not, can be given articles on the wiki? Are, say,
the animators of Donkey Kong Jet Race
eligible for articles? Or any of the concept artists behind the Mario + Rabbids games?
I'm asking particularly because I'm sort of planning to make an article for a popular artist, Megan Rose Ruiz, who
claims to have worked as a visdev on the Mario Movie
. Obviously I'm only going to entertain that idea more seriously once they're actually listed in the movie's credits, but even if that's the case, I need to know if there's any consensus on what makes this person as well as others in a similar position coverage-worthy or not. Provided information about them is available, is it recurrence between projects? Social media notoriety? Having a Wikipedia article?
In this respect, I'm also noticing a lack of coverage for artists and programmers in the wiki's mainspace compared to that of composers, game designers, and, most decidedly, voice actors. Programmers don't even have articles as suggested by the
"People" template
, unless they had more notable roles. Perhaps we ought to expand the wiki's scope in this direction?
Last edited: