Inspired by
@DarkHammerBro1616
's ranking threads, I decided to make my own. I swear this took me so long to do.
This is going to rank Super Mario 64 and DS's bosses, from worst to best, simple enough.
Credit to the Super Mario Wiki and Models Resource for the images.
11. : Chill / Big Bully.

This fight is stupidly easy. They don't even feel like bosses anyway. You can literally just continuously jump on them, and in the case of the Chill Bully, you can dive right into him pushing him so far that the boss simply ends.
10. : Big Boo.

Similarly with the Bully's, this fight is stupidly easy. There are multiple fuckin' ways to defeat this guy for god sakes. Either Ground Pound him or just slide from the back, and that star placement is pretty trollish.
9. : Big Mr. I.

Have you ever noticed that most of these bosses not only have "Big" in their name, but are also balls? It still applies here! The only reason it's higher than the previous 2 is because the room you're in is slightly narrow. Otherwise, this fight is pretty, but not stupidly easy.
8. : King Bob-Bomb.

This boss acts pretty differently in the DS version. Instead of just walking, he actually attacks you by throwing Bob-ombs which you can throw (or spit in Yoshi's case) to defeat the boss. It is the first boss of the game though, don't expect quality.
7. : Wiggler.

A case of a boss with a great idea that isn't that good, but isn't bad either. He doesn't actually attack you until the 3rd phase, but he is also invincible unless you attack him, which is also the way to defeat the boss.
6. : Goomboss.
For the 3rd boss that you can normally fight in the game, it's not good, or bad. But this one strives more than the previous because he can actually attack you in all phases. He normally spawns Goomba's which attack you, but with Yoshi you just turn them into eggs and throw them at the King.
5. : Eyerock.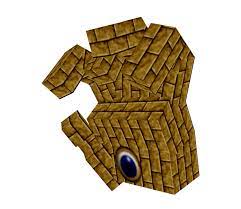 Why do bosses from the N64 era have to be giant hands? In this battle, they don't attack you at all, but they do try to push you off, and I wish I was joking. Just hit them in the eye and this boss is as decent at #7 on the list.
4. : King Boo (DS)
A overall great boss which is the way to unlock Luigi. He attacks in all phases, can turn invisible, and spits fireballs at you. Just do what I said with Big Boo and this is still a great boss.
3. : Whomp King
This is a great boss that I unfortunately don't have much to say about....but they did fix that clip glitch so this is automatically better.
2. : Chief Chilly
This is basically the Bully fights but better. This guy is really fierce, and you can't just jump on him anymore, and with each phase the map the arena is located in gets smaller. Just kick him into the water 3 times and your good.
1. : Bowser

Yes, the final boss is #1 on a list. How interesting. He attacks by either spitting fire, spitting blue fire, charging at you, or on the final boss (A.K.A the best boss of both versions), breaks 1 part of the map.
And that concludes my list. I hope you liked it!