One of the items you find in "Hey! Pikmin" is a 3D rendered replica of a Donkey Kong Land cartridge, complete with the artwork plastered on the actual ROM cartridge. Naturally, this would imply that Hard Hat, Hogwash, Krusha and everyone else seen on that cartridge make a cameo in said game, which would warrant adding "Hey! Pikmin (2017)" as the latest of their appearances in their respective articles.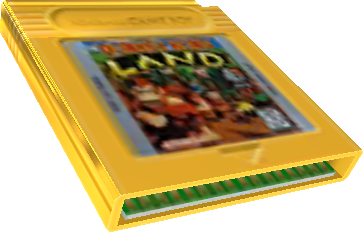 The catch here is that the artwork is rendered at such a low resolution that those characters appear as nothing more than clumps of pixels on a canvas. Visually, they're barely discernible. However, the context clearly dictates that they are present in the game, meaning that a passing mention of these appearances in their articles shouldn't be a stretch.
This is one case that, for a lack of a more specialised term, I would refer to as an "implied cameo": an appearance of someone or something that is both too minor to affect the course of the story/gameplay, and represented through a low-resolution picture that is only suggested by the context or environment to be said subject.
When such a situation arises, do we treat these implied cameos as valid appearances of a character? I would like to know your opinions.
Last edited: