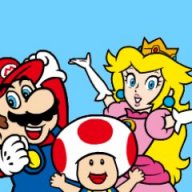 Dedicated Mario fan; loves the Mario girls double!
Retired Wiki Staff
My gosh, it's been a long while since I posted on these boards. Blame horrible depression attacks and mental blocks no thanks to this stupid COVID-19 mess. But I hope you all haven't forgotten me.
Anyway, I'm just curious to know from everyone here if you all managed to see about purchasing said Mario series related calendars for the 2021 year. Me, I've sadly been forced to buy two calendars online because they were not available in my local area bookstores. (<cues audience angry booing from
The Price is Right
game show during the "3 Strikes" pricing game>). But as for the calendars themselves, these are what I've targeted:
The main "Super Mario 2021 Calendar"
The "Super Mario World 2021 Calendar"
As for me, both calendars are on the way to my house - one in "pre-shipment status", and one closing in on making it to my doorstep. At least I'll have something to put on one of my walls when 2021 officially arrives!
Anyway, looking forward to hearing from you all; I'm out for now.