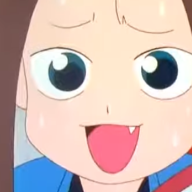 Shine Sprite
Forum Moderator
Wiki Bureaucrat
Former 'Shroom Staff
Here.
This is an unbelievingly horrible piece of wiki fiction (And this is saying something). This page doesn't tell what the name of the fanfic is , and the Userpage of the guy got deleted. So yeah, no name recognition. Yet, it's almost amusing in it's ineptitude so here's a crappy mocking of it by me:
One day, Super paper luigi picked up the newspaper. He noticed that on the cover it said "MORE INFO, USERS, AND ARTICLES DISSAPPEARED. The only ones not yet struck are Wikia, Wikipedia, and Super Mario Wiki. Tomorrow we will have an interview with Super Mario Wiki user Super paper luigi."
"Hey. Nobody told me about that!"said SPL. "Oh well, I'd better get ready."
That's one professional newspaper right there.
(Written sound effect)
"What was that?"SPL said.
A Big explosion sound.
e and two of his bros (Great Gonzo and Super Mario97) went out to find a huge island flying through the sky.
That's some good pick-nicking plan.
"What is that?"asked Great Gonzo. "It's Wikia."said Toa Waluigi.
WHO THE HELL IS THIs GUY
"Without it, no new wikis can be made
Which is why us, Wikiepedia and TfWiki don't exist. Wait.
That place sucks.
I'm curious.
Which is.
was breached some articles fell into the sea which, as you know, causes articles to become what they're based on."said Toa Waluigi.
Water is a strong mutagen.
"Well why don't we turn it into its main page and put it back?"Plumber asked coming to see SPL and Great Gonzo. "Energized Protodermis,"Toa Waluigi said,"
Toa Waluigi said,"tainted the sea it's what made me biomechanical and will most likely destroy you. I will survive
♪First I was afraid/I was petrified/ Kept thinking I could never live♪
because I found A Mask Of Flight.
Whcih you found in a Captain Crunch Box
And so Toa Waluigi flew of to Wikia to save anyone on Wikia.
He's so great!
"We can still get there if we go there through portals to Biosector, get some Masks of Flight, and fly to Wikia."said Plumber
Fly, for everlasting justice.
MESSAGE TO EVERYONE FROM WAYOSHI
And then out of nowhere message happened.
"Attention. The Power Star article has been stolen. As a result all power has been lost." he said.
Good think they never thought of back-up power sources, eh?
Which means we'll have to retrieve the article. But the only ones who can touch it are ones that have collected them all before." Which means we're going to need to free some friends."finished SPL.
"free some friends"? He didn't talk about any of them being captured...
First, went to the Mario article, but when they tried to pour water
A bunch of guys called First went on the Mario article
Then the Luigi, Wario, and Waluigi articles came their
The three articles they didn't pour water on become alive. How convenient.
Then a person in a shadowy flame appeared. The flame was to dark to make out any features.
And most importantly, it was too dark for the writer to makes any effort into describing it.
Then, using telepathy, he spoke to SPL in a twisted, barely distinguishable voice.
Villains have throath problems
Don't be so defeatist!
Well that's a good plan.
Then, he shot a blast of shadow at SPL. He dodged it but it hit Waluigi
Good, I hate that guy.
exploding and destroying him and almost deleting his article!
GOOD RIDDANCE.
Take the article, I don't need it anymore. I have the key of the Super Mario Wiki."
Oh no you don't.
Well, that was quick.
. "Wait," said Mario and Luigi "We're going, too."
Didn't the water failed to transform the Mario article.
"Hey,"3D said "You're not going without me."
Someone who never appeared before joins for no reason. How convenient.
The guy somehow managed to write 11 other chapters of this abomination, I'm scarred.