Always remembering Walkazo
Okay, brain. Is this the last of the character emblems? Can I move on with my life?
Because if Tanooki Mario and Cat Peach get their own unique emblems, then they all should.
Cat Bowser/Meowser, Tanooki Bowser, Cat Wario, Tanooki Wario
Cat Rosalina, Tanooki Rosalina, Cat Waluigi, Kitsune Waluigi
Cat Toad, Tanooki Toad, Cat Pauline, Tanooki Pauline
Cat Toadette, Tanooki Toadette, Cat Pauline and Tanooki Pauline if the Metro Kingdom Regional Coin were Pauline's emblem like I thought it was going to be
I realized most of these weren't going to be as easily recolored as Mario's and Luigi's respective Tanooki and Kitsune emblems, and I jumped at the challenge. I think I did pretty well. White Tanooki and White Kitsune. Pauline twice again, experimenting with the Metro Kingdom Regional Coin, also as a throwback to when she was blonde.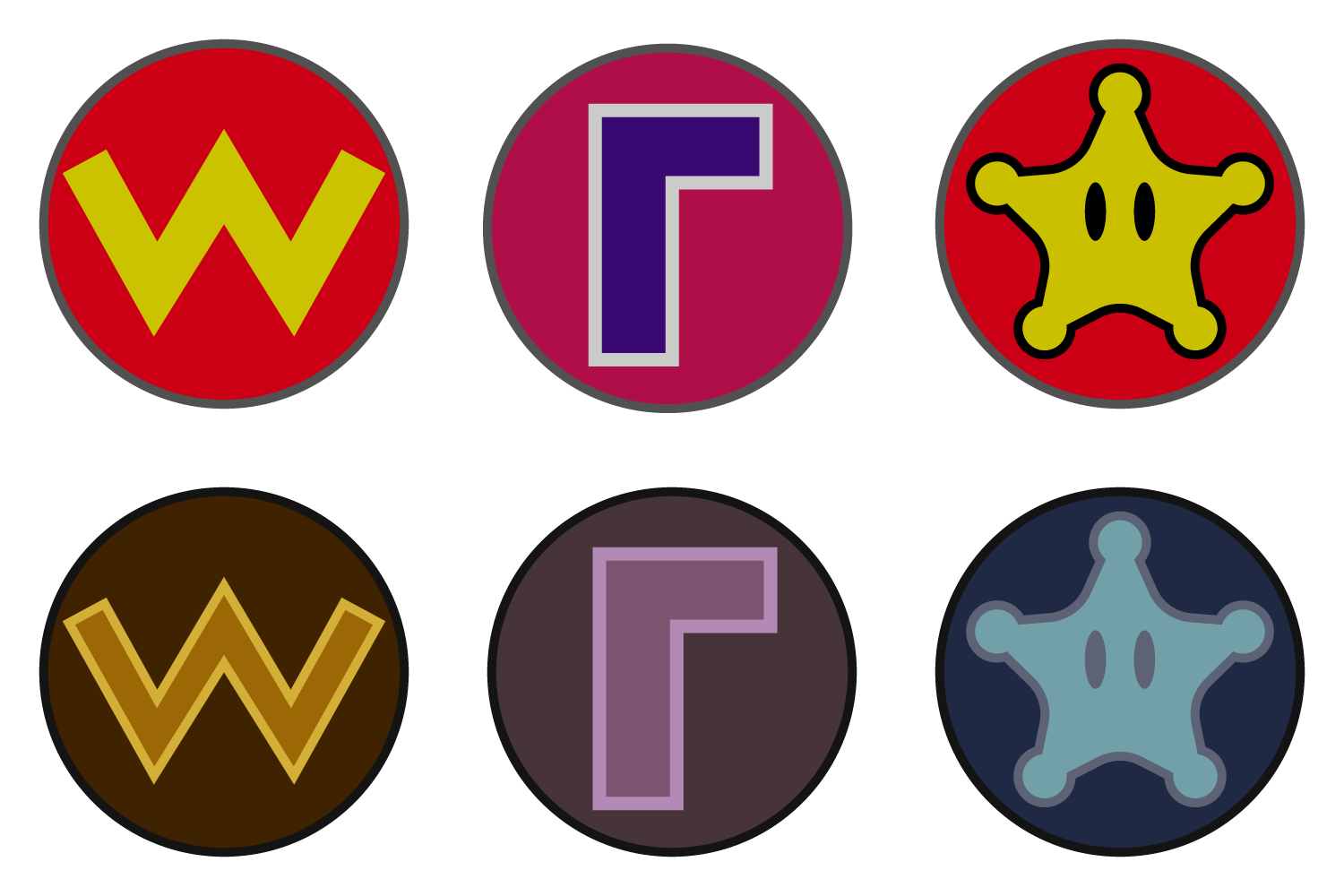 Fire Rosalina's emblem already exists in Mario Kart Tour, and I didn't feel the need to make any changes to that one. This wasn't intentional, but Fire Wario's emblem is McDonalds colors lol.
That bottom row is Gold Wario, Purple Gold Waluigi, and Blue Gold Rosalina. Yes, those are real alloys of gold. Purple gold is an alloy of gold and aluminum, and blue gold is an alloy of gold and indium. I'm taking a nod from pink gold being a real alloy of gold and copper, AND from the Gold Flower turning Luigi into Silver Luigi. You cannot stop me!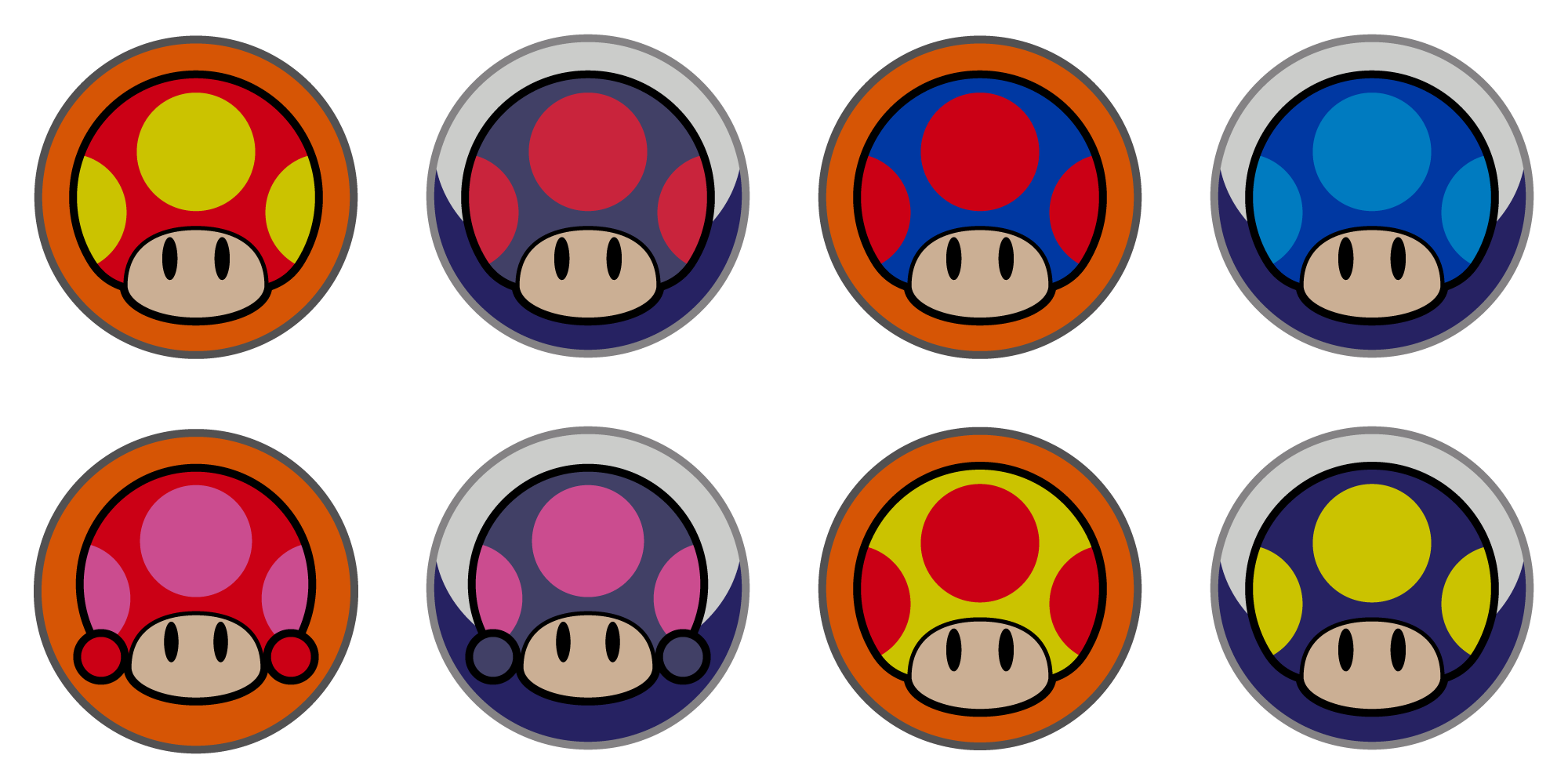 Because Mario Kart Tour got Penguin Yellow Toad's emblem all wrong (they made it RED for crying out loud), I needed to fix it. And I went overboard.
Here's Toad, Toadette, Blue Toad aka Bucken Berry, and Yellow Toad aka Ala Gold.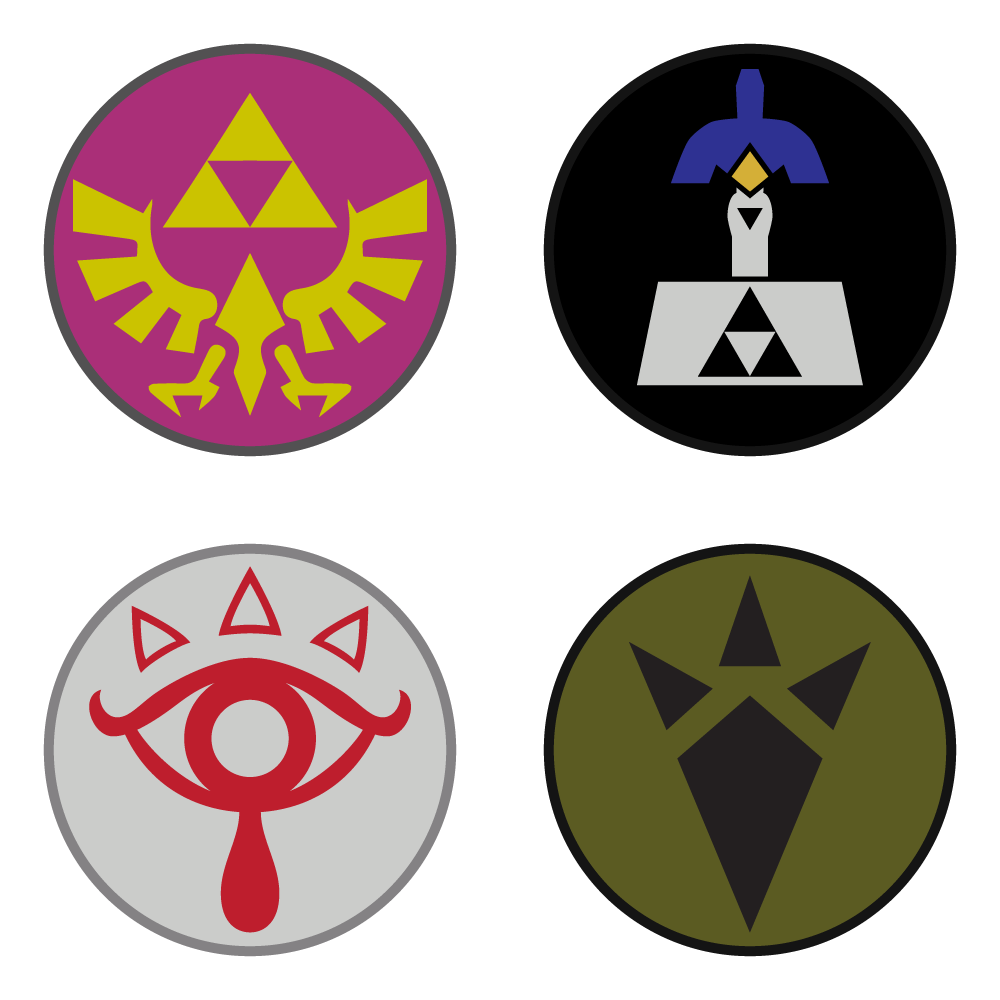 Okay, so I think the Hylian Crest would be better as Princess Zelda's character emblem if she got to join Link in Mario Kart 8. And the Sheikah symbol that's being used in MK8D as BotW Link's emblem should really be Sheik's emblem. I made up the Master Sword in its pedestal as Link's emblem instead, and Ganondorf's emblem is the symbol of Ganon's forces.
Because while I'm making alternate emblems for power-up forms, WHY NOT FEED MY SELF-INSERT ADDICTION
Fire J, Gold J, Cat J, Pneguin J, Tanooki J, White Tanooki J
Fire KK, Silver KK, Cat KK, Penguin KK, Tanooki KK, White Tanooki KK
Fire Qur, Green Gold Qur (this is a real alloy of gold, silver, copper, and zinc), Cat Qur, Penguin Qur, Kitsune Qur, White Kitsune Qur
Fire Pry, Copper Pry, Cat Pry, Penguin Pry, Kitsune Pry, White Kitsune Pry
Jevvel and Lilika don't get emblems because they're not allowed to join.
Last edited: