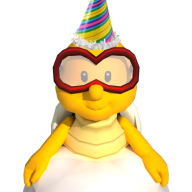 Celestial Guide
Core 'Shroom Staff
Awards Committee
Welcome to page 2 of this thread!
This month's It's aMAZEing features a Snow Bunny! The idea came up when it was literally snowing outside last week, despite it being about 22°C outside no more than three days earlier. It is also 26°C out today, so it was a weird day.
Anyway, bunny!
Check out the maze I this fellow into right here (
The_%27Shroom:Issue_145/Fun_Stuff#It.27s_aMAZEing
)!
This month also marks the start of a new season of Anniversary Announcements! Check it out here (
The_%27Shroom:Issue_145/Pipe_Plaza#Anniversary_Announcements
)!
No new things this year, and while Committee Interviews is not in this edition, it will appear in a few months! This is to let the newcomers adjust a bit before I bombard them with questions they can't yet answer. This is also why I interviewed veterans earlier than newer people last year.