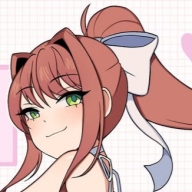 The Bird with Bronchitis!
Forum Moderator
Core 'Shroom Staff
Awards Committee
Poll Committee
So this is a game that was played a very long time ago. I don't recall who exactly started it, so please tell me if you know who it is. But basically, here's how it works:
You make up a Smash Bros. stage you would like to see based upon this template:
Name of the stage
Origin series
Unlock criteria (or just starting stage if it's a starting stage)
General description
Hazards
I'll be keeping a list of the stages, so that you can see a list of the different stages we've come up with.
Please keep them reasonable.
I love Undertale as much as the next guy, but an Undertale stage is basically never going to appear in Smash.
Starting Stages
Mario -
Bowser's Castle (Baby Luigi)
Paper Mario
- Super Paper Mario (Fawfulthegreat64)
Donkey Kong
- Bright Savannah (TyrorexDMZ)
Kirby
- City Trial (LeftyGreenMario)
Unlockable Stages
Smash Bros. - Fighter's Castle (SuperDoom)
Mario- Shy Guy Falls (Pyro Guy)
Mario - Waluigi's Island (A51_Trooper)
Zelda - Hidden Village (Alex95)