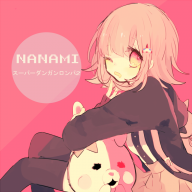 Sweden? More like Memeden.
Chat Operator
Retired Wiki Staff
Because this is really popular around here, I think that it requires a thread of its own. And in case you don't know where we read this from, we read it from
here
.
The let's play of the second game can now be found
here
.
There used to be a poll regarding who your favourite characters in the first
Dangan Ronpa
game was.
| | |
| --- | --- |
| Character | Votes |
| Makoto Naegi | 1 |
| Kiyotake Ishamaru | 1 |
| Touko Fukawa | 1 |
| Sayaka Maizono | 0 |
| Leon Kuwata | 1 |
| Hifumi Yamada | 0 |
| Aoi Asahina | 1 |
| Chihiro Fujisaki | 3 |
| Kyouko Kirigiri | 3 |
| Junko Enoshima | 1 |
| Mondo Oowanda | 1 |
| Sakura Oogami | 2 |
| Bykakuya Togami | 1 |
| Yasuhiro Hagakure | 1 |
| Celestia Ludenberg | 0 |
| Monobear | 7 |
Mirrored Updates