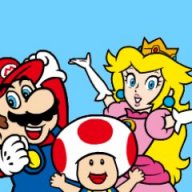 Dedicated Mario fan; loves the Mario girls double!
Retired Wiki Staff
Just a heads-up, everyone; I was at my local Books-A-Million this morning -- and the same guys that brought us the 2012 calendar in regards to the
Super Mario
series -- they've done it again by releasing the 2013 calendar version. This tell me that the
Super Mario
name itself is without a doubt a household name -- literally!
Looking forward to getting this when I have my funds ready -- although I have a mini-rant...
why in the heck were they able to obtain a HQ version of a Princess Peach artwork (with her parasol)... and leaving US in the dust (especially the Princess Peach supporters) to still wait for it to surface on the net...?!?! This is insane! (As you could already tell, especially in terms of most of the edits on the Wiki site itself, I'm still a dedicated fan of the Mario girls.
Okay, so who else is planning on getting this?