Dreamboat
Chat Operator
Retired Forum Mod
Retired Wiki Staff
Former 'Shroom Staff
I thought I'd start another Vote to Win, so this one'll be about levels, or parts, or worlds (anything will do) of video games you think are tough, or irritating. This'll start after Vote to Lynch is over.
I'd like about
100
50 nominations, but I'll shorten it if we can't get that.
When you're nominating, say the level or the part of the game you want to nominate, and then mention the game in brackets. You don't need the name of the level to be completely correct. When the polls come around, you have to vote for the level you think is the hardest.
TODAY'S MATCHUPS
Band Land vs. The True Arena
High Seas Hi-Jinks vs. KEEP MOVING!!!!
vs.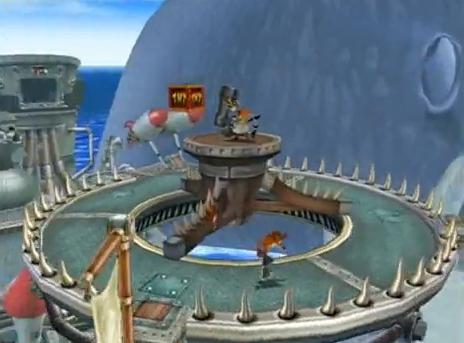 vs.
YESTERDAY'S RESULTS
Special 8-3
defeated the Lost Jungle (3-2).
Lost City
defeated Hyper Hexagonest (2-1).
Lakebed Temple
defeated World 8-2 (2-0)
Phazon Mines
defeated the Watermelon Festival (3-0).​
Schedule
4th January
Band Land vs. The True Arena
High Seas Hi-Jinks vs. KEEP MOVING!!!!

5th January
Ping Pong 2 vs. Hideout
Special 8-Crown vs. Hell Temple

6th January
The Waterfall vs. Love Rap 2
Secret Levels vs. Moai Heads 2

7th January
Giga Difficult vs. Test Chamber 18
Wario Dance Company vs. Witch's Sabbath

8th January
Snow Barrel Blast vs. Hyper Hexagon

END OF ROUND 1
Past matches
Round 1:

World 9-7

vs.

Ice Worlds




Eggmanland

vs. Water Temple
Stone Cyclone Galaxy vs. Sling Pod Galaxy
Rainbow Ride vs. Golden Temple
World 6-5 "Omega" vs.

Veni Vidi Vici
()


Perilous Passage

vs.

Sacred Grounds




Kamek's Revenge

vs. Great Bay Temple
The Perfect Run vs.

Jagged Jewels




Special World

vs. Blast & Bounce
Super Gravitron vs. Grunty Industries
Special 8-3 vs. Lost Jungle
Ravenholm vs.

Rusty Bucket Bay




Land of the Livid Dead

vs.

Crowded Cavern




Hyper Hexagonest

vs. Lost City
Lakebed Temple vs. World 8-2
The Watermelon Festival vs.

Phazon Mines
Nominations
1. Veni Vidi Vici (VVVVVV)
2. The Waterfall (Super Mario Sunshine)
3. Ice Worlds (Mario)
4. Ravenholm (Half-Life 2)
5. Phazon Mines (Metroid Prime)
6. Test Chamber 18 (Portal)
7. The Watermelon Festival (Super Mario Sunshine)
8. Secret Levels (Super Mario Sunshine)
9. The True Arena (Kirby Super Star Ultra)
10. Hell Temple (La-Mulana)
11. Sacred Grounds (Cave Story)
12. Rainbow Ride (Super Mario 64)
13. World 9-7 (New Super Mario Bros. Wii)
14. KEEP MOVING!!!! (Super Mario World 2: Yoshi's Island)
15. Kamek's Revenge (Super Mario World 2: Yoshi's Island)
16. Moai Heads 2 (Rhythm Heaven)
17. Ping Pong 2 (Rhythm Heaven)
18. Hideout (Dustforce)
19. Giga Difficult (Dustforce)
20. Witch's Sabbath (Rock of Ages)
21. World 6-5 "Omega" (Super Meat Boy)
22. Special World (Super Mario World)
23. Wario Dance Company (WarioWare: Smooth Moves)
24. Love Rap 2 (Rhythm Heaven Fever)
25. Sling Pod Galaxy (Super Mario Galaxy)
26. The Perfect Run (Super Mario Galaxy 2)
27. Snow Barrel Blast (Donkey Kong Country)
28. Lakebed Temple (The Legend of Zelda: Twilight Princess)
29. Stone Cyclone Galaxy (Super Mario Galaxy series)
30. Super Gravitron (VVVVVV)
31. Special 8-Crown (Super Mario 3D Land)
32. Special 8-3 (Super Mario 3D Land)
33. Hyper Hexagonest (Super Hexagon)
34. Hyper Hexagon (Super Hexagon)
35. Rusty Bucket Bay (Banjo-Kazooie)
36. Grunty Industries (Banjo-Tooie)
37. Great Bay Temple (Majora's Mask)
38. Eggmanland (Sonic Unleashed)
39. Crowded Cavern (Donkey Kong Country Returns)
40. Water Temple (Ocarina of Time)
41. Band Land (Rayman)
42. Lost City (Crash Bandicoot)
43. Land of the Livid Dead (Rayman Origins)
44. Lost Jungle (Sonic Heroes)
45. World 8-2 (Super Mario Bros.)
46. High Seas Hi-Jinks (Crash Twinsanity)
47. Jagged Jewels (Donkey Kong Country Returns)
48. Golden Temple (Donkey Kong Country Returns)
49. Blast & Bounce (Donkey Kong Country Returns)
50. Perilous Passage (Donkey Kong Country Returns)