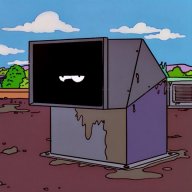 I'll just hang out in this vent.
I missed some reviews, but I did mine for the newest episode:

Coming into this episode, I had no expectations whatsoever coming into this episode...

Let's start off with the main issue in the first act: Marge. In all of my life of watching Simpsons, her voice was starting to get bad. This season however, it has gone further than that. I thought it was just for singing, but when hearing her in that first act, god, she sounded bad. Her voice was just literally breaking apart. Her voice either needs to be retired to rested before it gets even worse.

The plots felt like they just existed. The Christmas Movie plot just flew over me like it was over in a few minutes. It was hardly funny. Also, we knew that all would be well for the film, but we didn't see any of it. What a shame. All it was was a parody which I didn't really care about. And another thing that didn't make it, we saw no return of Flim Springfield.

The subplot... was worse than the main. And it had all right to, right from the start I knew it was going to be bad. Didn't really liked the guest star here, and Skinner ended up losing another crush, who throughout, had lacked chemistry as a couple. Predictable and boring throughout.

Another problem with this episode is the Background Music. Not that it was awful bad, it didn't fit into the episode at all. And to be fair, it did kinda suck.

I am struggling to remember a good thing about this episode, and it only aired a few minutes ago. Absolutely nothing. I even struggled to like the animation here. You know an episode's bad when that happens.

Some other notes, we saw Apu and his family in the background, so it looks like he's not written out yet. Seems like they needed some Background Space for some scenes.

In conclusion, out of all the people I've seen put in a reaction so far, only 2 people liked it. That's it. Just 2 people. So, if you want to watch a Christmas episode this year, please, PLEASE do not make it this one. I'm begging you.

MY FINAL RATING:

1.5/5

. I'll round it up as a high

1/5

.

6 disappointments in the last 6 episodes. 3 were just bad, 2 were mediocre at best and 1 was good, but didn't meet my expectations.
Last edited: