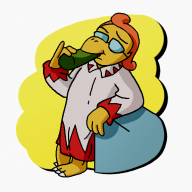 kero?
Chat Administrator
Core 'Shroom Staff
Awards Committee
So today I suddenly had the idea to make this thread as a way to crowdsource ideas but also have easier discussions on things I review if people were to ever want those, instead of me just harassing people in irc.
Anton's Half-Baked Reviews
is a 'Shroom section born out of me wanting to do something for Critic Corner as I just became director of it, as well as addressing the audience's desire to have sillier and less serious sections, and getting myself out there to try new things. Each month I review things that I've never experienced before, whether serious or unconventional, and give it a "well I tried it" attempt with no real intent on giving it a fair review beyond my initial opinion, but if I happen to dig deeper into it because I liked it I'll certainly go there,
and then rate it on an entirely subjective scale of Chex Mix
.
I welcome anyone to just start yelling at me for things to try, as well as yelling at me for having a bad opinion, or yelling at me for having a good one, or just yelling! Do whatever you want in here, have fun!
Here is a list of each issue and what I covered in them:
Issue 150 - September 2019 - New York City, Part 4: Food
Issue 149 - August 2019 - New York City, Part 3: Shopping
Issue 148 - July 2019 - New York City, Part 2: Sightseeing
Issue 147 - June 2019 - New York City, Part 1: Getting Places
Issue 146 - May 2019 - Britain: Fry's Turkish Delight, Crawfords Bourbon Creams, Weetabix, Maltesers
Issue 145 - April 2019 - Britain: Irn-Bru, Idris Fiery Ginger Beer, Vimto, Tango, Ribena
Issue 144 - March 2019 - Germany: Strudel, Streussel, Nussecken, Linzer Torte, Almond Horn, Leberkäse Sandwich
Issue 143 - February 2019 - France: Macarons, Beignet, Napoleon
Issue 142 - January 2019 - Germany: Maggi, Mezzo Mix, Roast Bratwurst, Apple Strudel, Löwensenf, Milka Oreo Big Crunch Bar
-
Rebranded reviews
Issue 141 - December 2018 - Islamic world goodies: Tamek Sour Cherry Nectar, Rani Float, Legendary Uludağ Gazoz, Shani, Chocolate Baklava, Orangina
Issue 140 - November 2018 - Nestlé: Nestlé Milk Chocolate Bar, Mars, Nestlé Coffee Crisp, Lion, and Milkybar
Issue 139 - October 2018 - Ghost Pepper Chex Mix, Halloween-themed M&M flavors, Capn Crunchs Halloween Crunch
Issue 138 - September 2018 - Ramune, Hi-Chew, (some) Japanese Kit Kats, Calbees Seaweed & Salt Potato Chips, Samanco Ice Cream Sandwich
Issue 137 - August 2018 - Bubble teas; Milk, Taro, Thai, Bubbleology
Issue 136 - July 2018 - Milkis, Calpico
Issue 135 - June 2018 - Super Mario Odyssey, Kellogg's Super Mario Cereal
Issue 134 - May 2018 - Frosted Krispies, Chobani Greek Yogurt Drinks, Hersheys Cookies n Creme Popped Snack Mix, Tim Tams
Issue 133 - April 2018 - Publix Subs, Cuban Sandwich
Issue 132 - March 2018 - Bread things, toilet thing
Issue 131 - February 2018 - Reese's Popped Snack Mix, Hershey's Gold
Issue 130 - January 2018 - Licor 43
Issue 129 - December 2017 - Walnut Milk, Salted Caramel Pepsi, Die Hard
Issue 128 - November 2017 - Heart Rocket
Issue 127 - October 2017 - Cheerwine, Mi Carreta (Part 2), Granite Falls Brewing Company, Organic Chocolate Peanut Butter Ice Cream
Issue 126 - September 2017 - 1893 Pepsi series, Jones Cream Soda, Crystal Pepsi (Fizzy Things Part 3)
Issue 125 - August 2017 - Sparkling Water, Coconut Water, Kombucha (Fizzy Things Part 2)
Issue 124 - July 2017 - Firework Oreos, Pepsi Fire, Mtn Dew S A (Fizzy Things Part 1)
Issue 123 - June 2017 - Wario Land 4
Issue 122 - May 2017 - VVVVVV, Spirited Away
Issue 121 - April 2017 - Various Acrobatics; April Fool's Day; Stop Writing
Issue 120 - March 2017 - Super Mario 64; Walking outside and breathing fresh air after getting unreasonably mad at a video game
Issue 119 - February 2017 - Play something from the Touhou Project
Issue 118 - January 2017 - Ferroro Rocher; Spend a ton of cash on Christmas gifts; Start a budget planner
Issue 117 - December 2016 - Eggnog; Glühwein; Gingerbread
Issue 116 - November 2016 - Mad Max: Fury Road; The process of designing a new Shroom section
Issue 115 - October 2016 - Cook-Out; Mi Carreta; Hardee's; Culver's
Issue 114 - September 2016 - Running a Shroom team; Play as Winston in Overwatch
Last edited: