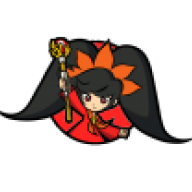 You'd better learn my name 'cause I am...
Hello! I havent been active on the Mario Wiki, the Mario Boards or any other game related websites this year...Real life sometimes sucks...Anyway, I had some free time and I made (and am making) mods for some Mario games on the Wii. Right now I am modding Mario Party 9...
Oh, I wish I could share the files, but as per the Boards' rules, I can't do it...If you send me a personal message maybe I can share it (?)
Anyway, here I made Rosalina and Pauline into Sports Mix. Rosalina is made over Bowser, but using Peach's animations, and Pauline is over Waluigi but using White Mage's animations. Rosalina has a full voice replacement set, Pauline doesn't...
Pauline's model is glitchy cause it was very hig oly and when I diminished it it became slightly deformed....

Hope I can share more soon! It depends on my real life schedule...