Eats Lunch at 4:00 pm
Wiki Patroller
I know this is not my first artwork I created, but this is definitely the first one where I used the computer (GIMP to be exact) to colorize it instead of using crayons or pencils.
In the Mario Tennis games, I always wondered why Baby Mario was playable, but Baby Luigi left out. Sure, he had a cameo appearance. Playable? No. This also applies to Mario Golf. So I wanted to fill this gap with a drawing of Baby Luigi if he were to be playable in Mario Tennis (which I wish he will, especially in the next Mario Tennis game). BTW, that's not a 1, that's a lower-case L. It is extremely difficult to draw a lower-case L without making it look like a 1 or a capitalized I without resorting to other fonts or cursive. And Baby Mario had a lower-case M on his racket, why can't Baby Luigi have a lower-case L? :P
I know this is not perfect, but this took a lot of effort to make this. Not as much as you'd think, though, since I am proficient at drawing Baby Luigi and can draw a fairly decent picture of him without resorting to using a picture or a figure of him.
Here is my original sketch below: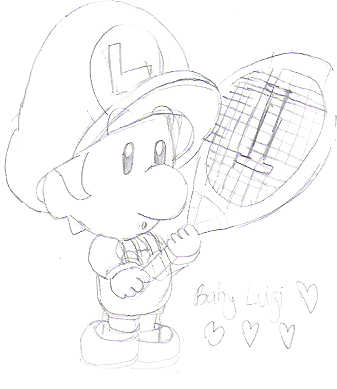 NOTE: I do NOT take requests. First, it takes me a heck of initiative to sketch something and second, I am not as great as drawing other characters as I am with Baby Luigi.