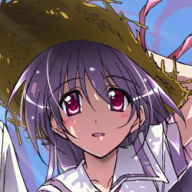 🌻Ashita wa nanika ga kawaru ka na?
Visit us on Userpedia, help Fallenstar become more popular than Toadbert's comic!
Check out pages 8 and 9 for wacky interviews with fans of the series!
IMPORTANT NOTICE: All comics will now be linked to only, as the new forum design messes up posting whole comics here
So, I finally decided to stop being lazy and make a comic... Well actually, a story idea just came to me very early in the morning a few days ago... And I immediatly got to work making the first comic. It was finished at around 5 AM Eastern Daylight time, and has already got positive reviews from both the general public and some of the greatest comic makers on the Wiki... So I present to you... Legends of the Fallenstar!
Comics;
Chapter One (The Meteor);
http://img85.imageshack.us/img85/1323/comic1finaluj3.png
Chapter Two (The Evacuation);
http://img85.imageshack.us/img85/5379/comic2ft1.png
Chapter Three (A Bureaucrat's Honor);
http://img89.imageshack.us/img89/2742/comic3jb1.png
Chapter Four (The Ones who Stayed Behind);
http://img229.imageshack.us/img229/2329/comic4xj5.png
Chapter Five (Aftershocks);
http://img228.imageshack.us/img228/8443/chapter5qs9.png
Chapter Six (Ground Zero);
http://img218.imageshack.us/img218/8324/chapter6om4.png
Chapter Seven (Disvovery);
http://img216.imageshack.us/img216/4919/chapter7ep6.png
Chapter Eight (Mysteries of LI-237);
http://img69.imageshack.us/img69/9946/chapter8iy2.png
Chapter Nine (Before the Storm);
http://img136.imageshack.us/img136/8303/chapter9lp5.png
Chapter Ten (Awakening Force);
http://img152.imageshack.us/img152/4421/chapter10vj3.png
Chapter Eleven (Rough Start);
http://img90.imageshack.us/img90/2664/chapter11kp1.png
Chapter Twelve (The Blood-Stained Castle);
http://img83.imageshack.us/img83/8238/chapter12ro3.png
Chapter Thirteen (The Yellow Giant)
http://img217.imageshack.us/img217/7093/chapter13jr1.png
Chapter Fourteen (War and Sacrifice)
http://img57.imageshack.us/img57/6512/chapter14zu8.png
Christmas Special (A Tale of Christmas)
http://img292.imageshack.us/img292/6831/christmasspecialrr9.png
Chapter 15 (Team Fallenstar)
http://img201.imageshack.us/img201/544/chapter15wl0.png
Chapter 16 (Pure of Heart, Pure of Rage)
http://img247.imageshack.us/img247/9594/chapter16ta1.png
Chapter 17 (Toadbert Alone)
http://img223.imageshack.us/img223/1064/chapter17ci0.png
Chapter 18 (A Call to Action)
http://img87.imageshack.us/img87/5259/chapter18eh7.png
Chapter 19 (Memories that Dance)
http://img231.imageshack.us/img231/5091/chapter19hs2.png
Chapter 20 (The Cosmic Messiah, Rythem)
http://img137.imageshack.us/img137/6060/chapter20qq0.png
Chapter 21 (Wrapped in Black)
http://img510.imageshack.us/img510/9610/chapter21np0.png
Character Profiles;
Master Crash;
Toadbert;
Beanbean;
Plumber;
Snack;
Burt;
Credit list;
Shift sprites by Uniju
Uniju sprites by Uniju
Toad sprites ripped by Saturn Echidna
Moogle sprites ripped by Wolf Fire
Pokemon DP sprites by Pokemon DP and Max2
Master Crash sprites by Master Crash
Max2 sprites by Knife
Max the Dog sprites by Max2
3D sprites by 3dejong and Knife
Toadbert101 sprites by Toadbert101
All other character sprites from the "King Sheet" and the "Troll Sheet"
Subway train and station sprites by Uniju
Most backgrounds ripped by Ryan914 and EternalLight
Computer sprites by HC_Missile
Hill background by myself (Snack)
Trash can sprite by Uniju
HooHooRos Gate background ripped by XenoDream
Impact crater background created from a photo taken by the user "Cburnett" on Wikipedia
Spaceship sprites by myself, Snack
Meteor sprites ripped by SmithyGCN
Meteor background by A.J. Nitro
Desert mountains background ripped by Zero the Hedgehog
Super Mario Galaxy star launcher thing by Ken Martin
Torpedo Ted sprites by tachin
Boo Guy sprites ripped by Esteban
Uniju's Castle backgrounds by Uniju
Food sprites by Master Crash
GBA sprite from the Sblaka Console Sprite Project
Glurp sprites ripped by Koopa Master
Frijjle
Miniboss sprites by Uniju
Chukolator sprites ripped by Frario
Storm Yoshi sprites by Pokemon DP
Willy/Paintroller sprites ripped by Victor t.h.
Cobold sprites by Plumber
ChaosNinji sprites by Pokemon DP
Beanbean sprites by Plumber
M&L style blocks ripped by A.J. Nitro