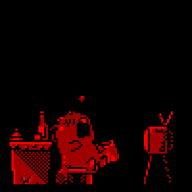 Middle-Afed rodents in elevator shafts are cool!
So, I might be asking the wrong people this, but do you ever just not feel excited about games?

I used to get so excited over new games and actually follow releases. Then I got out for that for a few years, but would get excited for some games. The last game I can really remember wanting was... Mario Kart Wii, I think.

I like classic RPGs, and classic platformers. Tetris and Dr.Mario (for the NES) are my two most favorite games still. I liked Mario Galaxy, but it didn't suck me in as much as Sunshine (which is my favorite of all the 3-D games).

Does anyone else feel like "the norm" for games is changing and leaving them behind?