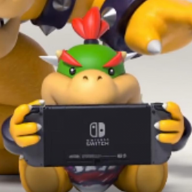 Just like the first one, except better.
(Just give me a Bowser game, please Nintendo)
Relatable
Anyway, other than a true Bowser game, I'd love to have a game about the future. The Mario gang has already messed with the past plenty of times, now it's time to travel in the other direction. Obviously Nintendo isn't gonna spoil anything (Mario and Peach getting married, stuff like that), so it would have to take place in the far future, maybe a few hundred years or something. As for plot basics, I have an idea...
A visitor from the future has arrived in the Mushroom Kingdom, frantic for help. Bowser has begun to take over the future! Legends told of the Mario Bros, the brave plumbers who were capable of defending the Mushroom Kingdom with nothing but their wits and the soles of their boots. Now that the foe of legends has become a reality, only the legends themselves can stop him. Futuristic hilarity ensues as Mario and the gang leap forward through time to tackle Bowser in the most advanced world yet.
I don't know what kind of game this would be. I feel like it's more suited for an RPG, but I could see it being 3D. No matter the style, though, I would be very interested.