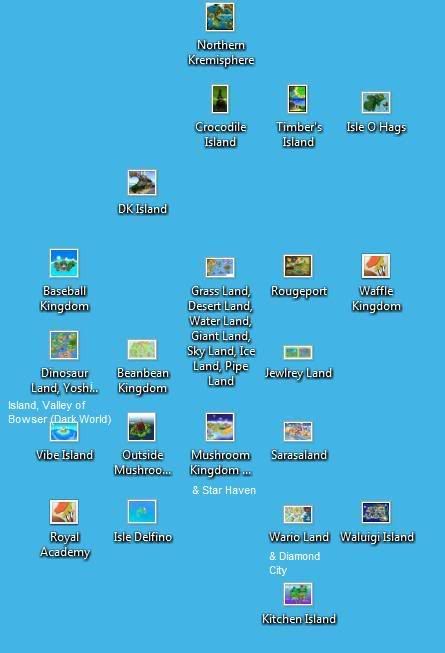 This is my fan made map of the mushroom world. Can I have some opinions on it and if im missing something or if it needs to be somewhere else. If your wondering what the locations are they are
Northern Kremisphere - This was the location where DKC3 took place. I assume it is on the northern part of the world which is also where I put all the areas in the Donkey Kong games.
Crocodile Island - The main setting to DKC2 and where the Kremlins are from and King K. Rool's main base.
Timber's Island - The main setting to Diddy Kong Racing. Taj the Genie and all the racers that arn't Diddy, Tiny, Dixie, Krunch, Banjo, Tiptup and Conker live here.
Isle O' Hags - People are going to probably get mad at me for this but this is the island where the Banjo-Kazooie and Conker games take place. They all stay on this island and its close to timber island which can put it that they only have contact with them and DK Island.
DK Island - The Main Setting to most Donkey Kong games and the home to all of the kongs.
Baseball Kingdom - An Island filled with lots of Baseball arena's that are owned by the team captains.
SMB 3 Lands - Grass, Desert, Water, Giant, Sky, Ice and Pipe Lands are located in this general area just north of the mushroom kingdom and is where all the levels in SMB 3 are.
Rougeport - The Land in Paper Mario: Thousand Year Door.
Waffle Kingdom - The place is never seen but Luigi had a big adventure through there during Paper Mario: Thousand Year Door. I assume it is close to Rougeport because he kept stopping by there.
Dinosaur Land - The giant land in Super Mario World which also includes Yoshi's Island where all the yoshi's live.
Valley of Bowser (Dark World) - I believe that this is Bowser's main base and where his kingdom is. I believe that the dark wood in SMB3 and Valley of Bowser in SMW are the same place. Also This can be logical because it is right near yoshi's island which can explain why Bowser terrorized the yoshi's alot when he was younger because they were the closest civilization to him.
Beanbean Kingdom - The land is Mario & Luigi: Superstar Saga. This is on the same continent as the Mushroom Kingdom because there is a border. sorry the map has them seperated.
Jewlrey Land - The Main Setting to Yoshi's Safari. It was described before as a neighboring Kingdom so I have it somewhat close to The Mushroom Kingdom.
Outside Mushroom Kingdom - This is supposed to be on the same continent as well. This is all the areas that are in Super Mario RPG. They are all south west of the mushroom kingdom.
Mushroom Kingdom - The main setting to almost every Mario Game and the land where Mario & Luigi Currently live. It is ruled by peach and most of the residents are toads but also their is lots of other species that come across the world that live here (its like there version of america).
Sarasland - A neighboring kingdom that is ruled by Daisy and is good allies with the mushroom kingdom.
Royal Academy - An Island in the Mario Tennis GBC game. It is where humans practice tennis and is where the human characters in mario tennis come from.
Isle Delfino - Where Mario Sunshine takes place and a popular vacation spot. After Mario fixes the trouble the gang seems to come here more often for kart races and other spin-offs.
Wario Land & Diamond City - This is where most of the Wario land games except 1 probably take place. Diamond City may also be here if it is on the Mushroom world.
Waluigi Island - A Map in Mario Party 3 that is a very industrial island. This is probably Where Waluigi lives and since it is pretty isolated why he dosn't really show up for things that arn't real adventures.
Kitchen Island - the setting to Wario Land I and Captain Syrups main base. The whole island is inhabited with her pirates.