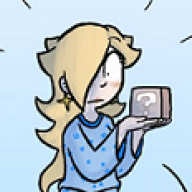 I'm just confused as you are.
Well, I wanted to post this here instead of hijacking, so here..
The main villain for the Super Mario story that I have started writing. The last picture looks drastically different due the the fact that I thought the previous two looked too nasty for a Nintendo game, so I made a cutesy version of the monster for Nintendo sake.
This is the Great Gatherer; a villain that scours the galaxies looking for energy to harness and souls to devour to sate its never ending hunger. Created over 100 years ago by Professor E. Gadd, this monster has been terrorizing the stars for decades; and it now has currently set it's eyes on the Mushroom Kingdom. Only an alliance between Mario, his friends, Bowser, other unlikely villains ( Such as a 4 Chan addicted Shadow Queen ) is strong enough to stand a chance against this monster.