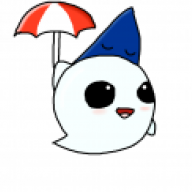 NOPE, THE PARASOL ISN'T A KIRBY IDEA I SWEAR
Banned User
If the wrong board, just move it, okay? I'm just going to throw out what I have to say:

Alright, you know... I've been being a complete jerk to the other users in this forum because I took everything they had told me the wrong way. I'm terribly sorry for that. I felt terribly hurt inside after reading Nabber's Petition thread, everyone was outraging there... But, it ended well after MCD's post...

That thread made me realize how much the other people in this forum were suffering so I decided to put out I wont be a complete jerk anymore. I'm sorry for telling others to shut up, I'm sorry for the unoriginality, I'm sorry for starting flamewars with Boidoh and Jack Noir.

I have to be glad that I'm not banned or warned cause in the future, I might start getting banned. So, I'll keep my word in this thread that I'll stop overreacting and outraging towards anyone.