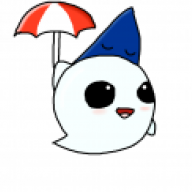 NOPE, THE PARASOL ISN'T A KIRBY IDEA I SWEAR
Banned User
Mods, please move this if the wrong place.
So, this story is based on Pokemon Mystery Dungeon Explorers of Sky, Time, Darkness.
Prologue:
It was a morning day, a ghost named IceShadow decided to go for a walk in his town. On the middle of his walk, he found a map, the map had the location of the Super Mario Boards forum. IceShadow thought it'd be fun to join the forum. After a long walk, IceShadow found the forum, near the entrance, there was a little manhole cover with holes on it. IceShadow was curious about the cover and standed over it. After that, he heard voices coming from the cover, the voice said:
"Um, what's this?"
Later a loud voice asked:
"What's the MATTER!!!???"
-"I don't see any footprints at all, I can only something light-blue colored in the cover!" Responded the other voice.
-"So, you're saying there's a GHOST over the cover?!!!" Asked the loud voice.
-"I don't think so, it might be something else that floats!" Responded the other voice in fear.
Nine seconds later, the loud voice yelled:
"STRANGER, YOU MAY ENTER!"
The gate to the forums opened after that yell, IceShadow went through the gate and everyone on the forums were surprised.
-"Is that... a Boo?" Queen Boo said.
-"Maybe, but his eyes are large and he wears a strange hat!" Answered Magikrazy.
-"What are you doing here ghost? Scram!" Said Nabber.
All of them were looking at IceShadow, he hid behind his arms due to his shyness.
-"I think he or she just wants to join the forum, not to harm anyone..." said Queen Boo.
A moderator walked in by and said:
"What's going on here?"
-"Thrackerzod, there's a ghost over there, we don't know what he wants." Says Magikrazy.
Thrackerzod rubbed his eyes and gave a stern look at IceShadow.
"What is your business here, ghost?" Said Thrackerzod.
-"I just wanted to join the forum, it looks very exciting! Can I join, please?" Said IceShadow in overexcitement.
-"Alright then, follow me" Said Thrackerzod as he was walking away.
IceShadow followed Thrackerzod to the forum's creator's office.
"Who is this ghostly guest you have here, Thrackerzod?" Said Porplemontage.
-"That's right, I haven't asked his name yet... So what is your name ghost?" said Thrackerzod.
-"I'm IceShadow" Answered the ghost.
-"This ghost, IceShadow wants to join the forum. He looks pretty excited though." Said Thrackerzod.
Porplemontage wrote IceShadow's name on his list of joined forum members and took his camera out.
"Alright IceShadow, can you stand on that wall over there?" asked Porplemontage, pointing one of the walls.
IceShadow stood on the wall Porple was pointing at.
"Alright! Say "Wario is awesome!" Said Porple preparing to take IceShadow's photo.
-"Wario is awesome!" says IceShadow giving a thumbs up.
So, Porple glued IceShadow's photo on the "Forum Members" list.
"Alright IceShadow, you are now a member of the forums. Enjoy your stay here, and be sure to go to read the list of rules on Wayoshi's room. Wayoshi's room has a green colored door." Said Porple with a big smile on his face.
-"Take this badge so others know you are a forum member" Porple gave IceShadow a red egg-shaped badge. IceShadow walked out of Porple's office and went to Wayoshi's room to read the rules.
"Okay, you are a new member if I'm not mistaken?" Said Wayoshi.
-"Yes! I'm IceShadow! I want to read the rules so I don't brake one
" Says IceShadow.
-"They are over here... " Said Wayoshi pointing to the list of rules.
After reading all the rules, IceShadow walked out of Wayoshi's room and greeted out the other forum members. An hour later, Thrackerzod ran after IceShadow and said:
"IceShadow! There's something I completely forgot!"
After that, Thrackerzod took IceShadow to a reserved room.
"Here it is. A room for you... Well, you'll live here while you work for us... So, yeah..."
IceShadow had some fun with others in this forum until nighttime.
This is the end of this part, Part 2 will be coming later.