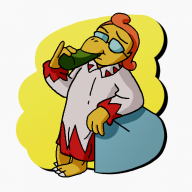 kero?
Chat Administrator
Core 'Shroom Staff
Awards Committee
Neu showed me this nifty thing a few weeks back. It's pretty simple--just post up your favorite song of the week, and people can go to your page and listen to it.
THIS TOTALLY ISN'T A SCHEME TO GET PEOPLE TO ADD ME

but here's my page: http://www.thisismyjam.com/psychokamek
You can listen to the song I currently have up, as well as see past ones. It barely takes any maintenance, and I think some of you guys would find it neat.