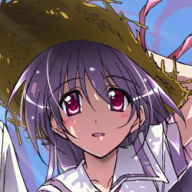 🌻Ashita wa nanika ga kawaru ka na?
Anyway, since there is probably noone else here that cares about the PWNsome Sonic Riders series, I figured I would post this and get all the credit. Sonic Riders: Zero Gravity was announced yesterday, and will be very similar to the original, with the subtraction of the Turbelence feature. In it's place, there will be a gravity controlling feature, infact, two of them.
If you never played the first game, I will explain the basic concept. It is a part racing game part extreme sports game. You constanty move forward, steer with the controls stick, and drift around corners like in Mario Kart, but that is where the similaritys end.
In Sonic Riders, you have an "Air Gauge". The air gauge depletes as you move and use boost moves. The Air Gauge is replenished by performing tricks. You can peform tricks by going of a ramp, then moving the control stick to perform various aeriel manouvers.
You can also jump by pressing A, and charge up a jump by holding then releasing A. Release A right before going over a ramp to fly higher into the air, giving you more opertunitys to perform tricks.
Sonic Riders: Zero Gravity will be available for both Wii and PS2, and while the PS2 version probably won't be much different from what I said, I'm sure the Wii version will have modified controls, better graphics, and exclusive features.
If I missed anything, the official press release is below;
SEGA ANNOUNCES SONIC RIDERS: ZERO GRAVITY SPEEDING ONTO Wii™ and PLAYSTATION®2 .

SAN FRANCISCO & LONDON (August 16, 2007) – SEGA® of America, Inc. and SEGA® of Europe Ltd. today announced Sonic Riders™: Zero Gravity, a fast-paced new Sonic racing game for the Wii™ home video game system from Nintendo and the PlayStation®2 computer entertainment system. The game, created by Sonic team, hits stores in February 2008 and takes Sonic into never-before seen worlds with edge-of-your-seat racing intensity and all-new gravity controlling moves.

In Sonic Riders: Zero Gravity, Sonic takes on to futuristic-inspired tracks and travels as far as outer space to push the limits of speed even further. Two new unique gravity control moves will allow players to outrace opponents while navigating walls, drops, and hairpin turns. Innovative new tracks take full advantage of Sonic's new moves and offer heart-stopping racing action enhanced by high-intensity speed boosts.

"Speed and agility is what built the Sonic franchise," said Scott A. Steinberg, Vice President of Marketing, SEGA® of America, Inc. "Sonic Riders: Zero Gravity offers long-time Sonic fans, and newcomers alike, the adrenaline-pumping gameplay and moves that made the blue hedgehog famous, while adding a plethora of completely new elements to the Sonic world. Packed with new and innovative features, Sonic Riders: Zero Gravity delivers a rush that gamers can't resist."

Sonic Riders: Zero Gravity also features a series of high-speed vehicles that evolve through the gamplay to offer the ultimate unrivaled racing machine. Complete with irresistible multiplayer modes and all-new playable characters, Sonic Riders: Zero Gravity brings the action, speed, and addictive gameplay that only Sonic can deliver.