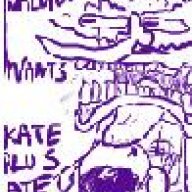 OH YEAH!!! WALUIGI TIME!!!!
Not sure if this belongs here or in off topic, but whatever. Basically, just take a random quote or stupid fad and translate it into another launguage. Extra chuckles if you go here:
http://babelfish.yahoo.com/
and translate it back. Also go there if you know no other launguage. I'll start.
Es ist uber neun tousend.
Guess what that is. :P
(Sorry if I got that wrong, I only know a wee bit of German.)