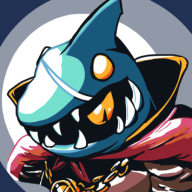 Do You Ever Yearn For The Soft Touch Of A Pancake
Core 'Shroom Staff
This is a board dedicated to strategy-based forum games, such as Mafia, Killing Game, and other forum games where self or group strategizing exists and social deduction might play a main role. Even ARGs can exist here, if you so choose. Lying and deceit! Mysteries to solve! Alignments to discern! Lore to uncover! Trust no one as you experience gripping one-of-a-kind drama and tension through these games!*

*Results may vary

You might wonder what differentiates this board from Roleplay or Forum Games itself, and that is typically games which occur here feature frequent eliminations by group consensus, and thus a higher level of commitment is expected (if you sign up, you are agreeing to remain active and participate for the game's entire duration or else warrant being replaced and blacklisted from playing in other games). Additionally, roleplay is NOT required for any games, you can just be yourself.

That's about it. Coming shortly will be a general discussion thread that will serve to gather frequently asked questions to put here for people's convenience. Have a good strategy, everyone
---
Strategy Board Rules (real)
- Be respectful. Do not harass any players or hosts for decisions or actions that may occur in these games. These forum games may be built on deception inherently, but being a jerk is not necessary. Remember that the forum rules apply here as well.
-
Be a fair sport.
Do not throw or otherwise spoil the game you are playing if things do not go your way. Examples of unacceptable behaviour include outing your teammates upon elimination, and offering post-elimination or outsider observations on a currently running game to sway the remaining players.
- If you sign up for a game, participation is mandatory. If you cannot commit to playing the length of the game from the start, please do the host a favour and don't sign up. If unforeseen circumstances cause you to be unable to play in the middle of the game, please inform the host ASAP so you can be replaced or otherwise have your player slot dealt with.
- Frequent troublemakers will be blacklisted from participating in all games on the strategy board for a time. Thank you for your understanding!