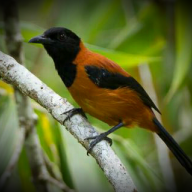 The Bird with Batrachotoxin!
Core 'Shroom Staff
Awards Committee
Poll Committee
February, a month of romance and burning passions for some, and dreary cold snow and grey skies for others. No matter how you feel about the month, though, our writers have prepared a treat for you that will pair nicely with your Valentine's chocolates.
Issue 167 is out now, so go show your love for our writers and staff by giving it a read!
If you happen to have picked up the newest Mario release, you might want to check out our
Photo Contest for Super Mario 3D World + Bowser's Fury
. This little contest is a chance to grab your Switch, take a shot, and share it with the world in
The 'Shroom,
so be sure to take this chance while you have it!
When you're reading through the issue this month, consider taking some time to answer the two short and simple questions in our
Feedback Survey, too
. If you're interested in 'Shroom-affiliated games and events, you'll want to weigh in through this survey! It's focused entirely on games and events you'd like to see
The 'Shroom
host, and it will shape the areas we focus this year.