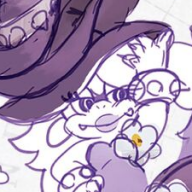 King of Klonks, bizarre dealer of the dark arts.
Making another topic here, since my previous one was pretty specific with its content. This is just for whatever else I make that I feel is suitable for posting here.
Anyways, this was a thing I made in printmaking class a few semesters ago based on the old Super Mario Bros. movie.
Figured it'd be a good time to finally show it since some lost footage was recently recovered by the archive.