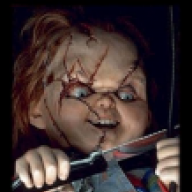 Biblio-Techa Mods (retired)
Figured I would go ahead and start posting my work here for everyone to see which covers photoshop work and 3d work which is quite intensive. I won't bother putting these into any particular order and if anyone has questions about anything I will be happy to answer as best as I can.
Let the mini art show begin!
This pic is my official clan coat of arms that I decided to make for fun. And to test out some effects that I came up with from scratch.
This is a test sig I made so I could get back into the world of sig making but haven't done too many of as of late due to being busy with the bully mega mod.
This one is part of a full set of rank sigs that I collaborated with my co-leader |XF|-Guthix [AR] to make for our clan. Each member has their own rank sig with their name attached to it showing the predator symbol for the rank in question. Guthix did the pattern by hand that makes up the majority of the sig and I came up with the rank symbols themselves along with the blending effects used in the sig.
This one was done entirely with a wacom tablet that sadly I lost in the fire...miss that sucker....and was just testing its capabilities out when I made this. This was based on a tattoo design I remembered from several years ago that I seen in a tattoo shop while on vacation in florida.
This one is a official wallpaper I did for my clan which we are no longer going with the alien vs predator theme on things due to going full to gta: san andreas multiplayer and gta4 now. This took me about a week to make and used around 50 layers to make the rust effects since everything is from scratch.....like most of my work.
This one is a special one for me. Those of you that have read or are fans of IT by Stephen King will instantly recognise this pic. I did this for a contest some years ago and ended up taking 1st place. There is a bit of a story behind this pic too. The business cards you see are actually based on a design that one my cousin's doodled over a real business card that she picked up somewhere back when she was in highschool, mostly due to her obsession with IT. To this day she still says that this pic creeps her out....lol Took me approximately three weeks to make this picture and it also is 100% from scratch. It is also one of my bigger pictures since the original psd was made up of around 300 layers to get the blending just right.
This one is a window design for my clan's flash site which already has this in the site for its mini-windowing system which is still not finished since I have lost the interest for the time being in adding more to that site....considering that it took me 4 years to design and complete it. I am currently retheming the site with a gta style theme while keeping the grungy feel the site has but not changing any of the core flash code due to the fact that the site is already complex enough....don't need to add more to it.
This one is a full 3d scene render that I did as a wallpaper for a friend of mine who like me is a longtime alien vs predator player and for being in her 50s....is one of the best alien players that I know of. She requested this from me since out of everyone that she has asked to do this for her, I am the only one so far that has managed to create exactly what she thought of all those years ago.
The rendering got screwed up with these two. These too are 3d. I will be adding this bike to bully at some point in the future to replace the cop bike...but reskinned with law enforcement decals to make it more cop like. This was originally going to be my comeback vehicle mod for gta san andreas before I decided to shift gears to bully instead. xD
This one is one of the very few that I put my real name on. Did this pic for my half sister as a birthday gift since she is 9 years old and is very into art. She is wanting me to teach her everything I know in photoshop which might take quite some time....lol
This one I did for one of my cousins who also is a big fan of my work who also requested that I make her somthing neat. So this is what I came up with.
Bully related artwork which has been posted elsewhere in here.
This is a logo I did for a former clan m8 but it never got used.
This is a modification of a pic my co-clan leader did...tho his looked more like the nazi flag then this one does which is what this is originally based from.
Please note: I do not condone racism nor do I support that. This was just more a doodle for fun to test my new embroidery effect in photoshop that I came up with.